Meet: Bridget Mora
Posted by Stacy Chandler
on March 3, 2014
As her son was getting therapy for Asperger's syndrome, Bridget Mora of Chapel Hill often found herself swapping information with other parents in the waiting room and writing long emails sharing the information and resources she'd found in the course of her family's journey. Her husband suggested she gather everything into one place that was accessible to everyone, and the CHART (Chapel Hill Autism Resources and Tools) website was born. CHART offers list of books, therapists, local events and other resources to help families dealing with autism connect with sources of help as well as with each other. We talked to Bridget about how CHART got started, what people should know about autism and ways North Carolina could improve life for autistic people and their families.
Q: Tell us a little about yourself, and about your family.
A: My husband, Peter, works for First In Families of North Carolina, a nonprofit that serves families and individuals affected by developmental disabilities. I work from home as a customer service manager for an international company and as a freelance writer; I am very fortunate to have a flexible job that allows me to care for my son after school. I also volunteer for the Autism Society of North Carolina Orange Chatham Chapter, Central Carolina First In Families, and the Special Needs Advisory Council for Chapel Hill-Carrboro City Schools. You might say I have a hard time turning down a good cause!
Our son, Holden, is 6 years old and in kindergarten. He is a bright, funny, lively, active boy with an amazing mind. He was diagnosed with Asperger's syndrome (high functioning autism) at age 3 ½. We also have a delightful little "therapy cat" named Milky. Holden loves all cats – his current plan is to save the snow leopards in Mongolia when he grows up.
Q: When did you start CHART, and why?
A: We started CHART (Chapel Hill Autism Resources and Tools) in the fall of 2011. The blog was my husband's idea. Over the course of our journey with our son, we have learned a lot about local autism and sensory resources (and read a lot of books!). I frequently met other moms in the waiting room of therapists' offices and would end up writing them long emails sharing information. Finally my husband suggested that we gather all of the resources we had found together in one place where everyone could access them. And CHART was born!
Q: Do you think the Triangle is a fairly autism-friendly place? How could it improve?
A: Overall, I do think that the Triangle is a pretty autism-friendly area. We have a tremendous wealth of world-class autism experts in the area, both in research and private therapy. There is a good support network (especially for moms) and nice range of inclusive activities for families offered through the Autism Society of North Carolina, TEACCH, and other local organizations.
However, the lack of access to services is a tremendous problem across North Carolina, and it is driving families out of the state to places where their children can get needed therapies. Although we have incredible resources in the Triangle, many families simply can't afford them. The problem is two-fold: the waiting list for the Innovations Medicaid waivers (formerly known as CAP) is over 10,000 people long. And private insurers are not yet required to cover autism treatment in North Carolina. Hopefully that will change this year: an autism insurance reform bill passed the N.C. House of Representatives in 2013; if the state Senate passes it into law this year, it could be truly life changing for so many families.
Q: What do you wish people who haven't dealt with autism knew about children with autism and their families?
A: To withhold judgment on the behavior of the children and the parenting style of the adults. Effective parenting of a child with autism may look different than people are used to. For example, a parent might strategically ignore negative behavior and heavily reinforce positive behavior; that could look like "condoning" misbehavior to the untrained eye, when in fact it is a more effective way to teach appropriate behavior than punishment. I would also like for people to understand that when a child with autism is doing really well in a situation, it probably means he is also working extremely hard at that moment.
Q: What's your favorite thing to do with the whole family in the Triangle?
A: We had an awesome time at a Carolina football game in the fall (go Heels!), and love to eat pizza from Alfredo's in Chapel Hill. Holden also plays in a flag football league and his dad coaches; I keep the stats.
Q: What's your favorite thing around here to do when you get a few hours to yourself?
A: To shop by myself or with a friend, especially for organizing supplies. A trip to the Container Store is pretty much my idea of a dream afternoon.
Q: What's the best parenting trick you've picked up?
A: My son has always had a terrible time sleeping, so I'd say the best trick I have picked up is to stick with a very consistent bedtime routine every single night. We are also very consistent about the time he goes to bed, even on holidays and vacations.
Q: What's the best advice someone has given you about being a mom?
A: That the best way to help my son calm down is for me to remain calm.
Q: What's your least favorite part and most favorite part of being a mom?
A: The least favorite part is easy: lack of sleep! My favorite parts about being a mom are almost too many to count, but I would say I especially cherish reading books and snuggling with my son. It is also very exciting to see the thoughts and ideas that come from our son's remarkable brain – he never ceases to surprise and amaze us. An unexpected benefit of being a mom is how parenthood has helped my husband and I learn how to be a true team. Our marriage and our partnership have been strengthened by the unique joys and challenges of raising a unique child.
February 15, 2014 - Radio Interview on Carolina Connection: Families Fight for Autism Coverage
Did you know that 34 states + the District of Columbia have passed autism insurance reform laws? Did you know that North Carolina is
not
one of them?
I wrote an
op-ed for The Charlotte Observer
about the need for autism insurance two years ago, and unfortunately we are still awaiting a law in this state.
Listen to my radio interview
on Carolina Connection to hear the latest in the fight for autism coverage in North Carolina.

May 30, 2013 - Article published on CNN.com about the reaction of the public to autistic behaviors:
Like many parents of a child with autism, we were distressed to hear of the poor treatment a little boy and his mother received in a Michigan salon. This
CNN article
is our response to the incident, and will hopefully provide some tips for members of the public on how to better respond when they see a child becoming upset.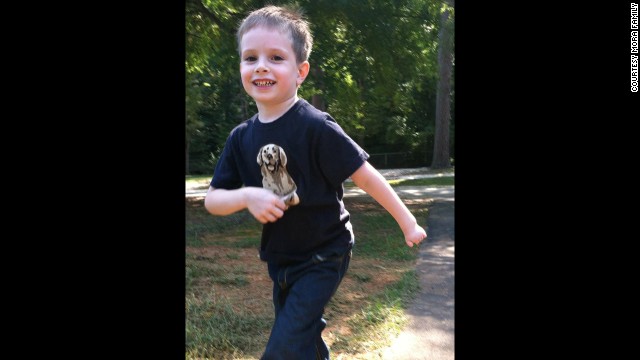 Writer Bridget Mora's 5-year-old son, Holden, is one of an estimated 1-in-88 children in the United States who has autism.
Opinion: Let's talk about autism in public spaces
updated 3:07 PM EDT, Thu May 30, 2013
Editor's note:
Bridget Mora is the mother of a 5 ½-year-old son with an autism spectrum disorder. A resident of Chapel Hill, North Carolina, she is a member of the board of the Autism Society of North Carolina Orange Chatham Chapter.
She also blogs about autism
.
(CNN)
-- Ashley Bays took her toddler into M Spa Salon in Portage, Michigan, for a simple haircut but left with a "severe tongue lashing," according to a witness whose Facebook post about the event went viral.
Customer Vanessa Hunt
wrote about her outrage
at watching salon owner Michelle Mott allegedly dress down Bays and 2 ½-year-old Grayson because the child cried during his haircut.
"At the conclusion of this woman's tantrum to the mother the mother said through tears, 'I'm so sorry, he's autistic,'" Hunt wrote in a post that has been shared more than 35,000 times. Attorneys for the salon said in a statement to mlive.com that Mott
reacted reasonably to safety concerns
caused by the boy's behavior.
Many toddlers cry during a visit to the hair salon, but the experience can be particularly challenging for individuals with the sensory sensitivities that are common in autism. I know, because my son is one of them.
Haircuts require a patient stylist, a special list of instructions, books to read and a fresh shirt to change into immediately afterward. If it weren't for the promise of a lollipop at the end of the haircut, he might not go into the salon at all.
The noise and feel of the clippers can be painful, the smells of dyes and permanents overpowering, the water sprayed on their hair upsetting and the sound of hair dryers panic-inducing. However, Bays, a longtime client of the salon, had found one hairstylist she trusted to cut her son's hair -- no small thing, as parents of children with autism can attest.
The incident at M Spa Salon has brought a much larger issue to the public eye than merely the allegedly nasty behavior of one business owner: Parents of children on the autism spectrum struggle with public judgment on a daily basis.
Sometimes kids with autism exhibit behaviors that draw attention to themselves, ranging from self-soothing repetitive motions to a full-blown meltdown in an overwhelming situation. The reaction of the bystanders can go a long way toward defusing panic or exacerbating it, which is what happened when Mott reportedly yelled at Ashley and Grayson Bays until they both left the salon in tears.
"I've never experienced anything else like this before. I understand if she doesn't want children in the salon, but she could have handled it a lot differently. She could have pulled us to the side. She was very insensitive that he does have special needs," Bays later said.
Just as a negative reaction can make matters worse, thoughtful words and actions can help. The hairstylist who joined the family outside to complete the child's haircut stands out as an unsung hero in the unfortunate M Spa Salon drama.
So what should a person do if they witness a child with autism (or frankly any child) in distress? According to Amanda Benson, LCSW, an autism specialist at
The University of North Carolina TEACCH Autism Program
, the most useful thing that bystanders can do is ask the parents: "Is there something I can do to make this easier for you?"
"The parents will know what will best help their child," Benson said, such as dimming the lights, moving to a quieter space or offering a preferred toy as a distraction. In the specific case of a haircut, the child might be more comfortable with scissors only or conversely only with clippers. Because autism encompasses such a broad spectrum, there is no single solution that will work well for all individuals.
Bystanders should refrain from judgment. Effective parenting techniques are different for children with autism than for typically developing kids. Because attention is often a strong behavioral reinforcement for individuals on the spectrum, parents may strategically ignore inappropriate behaviors, while providing positive reinforcement for appropriate behavior.
Bystanders can help by offering an empathetic smile for the parent or a word of praise for a child who is trying his best. Some parents of autistic children
carry small cards to hand out
explaining autism to strangers who stop and stare, or sneer.
Without acceptance of the whole spectrum of human development, people with disabilities are inevitably excluded from society. Given that the Centers for Disease Control and Prevention estimates the
autism prevalence in the United States
to be 1 in 88 (and more recent studies suggest that figure may be as high as
1 in 50
), business owners are going to have to become better educated about how to serve individuals with special needs. Not only are they their customers, as in the case of the young Grayson, but people with autism are entitled to the same access to public spaces afforded all other Americans.
March 28, 2012 - Op-ed published in Charlotte Observer about the importance of enacting autism insurance reform in North Carolina:
N.C. lagging on insurance for autism
By Bridget Mora and Robert Weiner
Special to the Observer
Posted: Wednesday, Mar. 28, 2012
The Autism Society of North Carolina's annual conference, the largest autism gathering in the state, takes place in Charlotte tomorrow and Friday. Bringing to light a disability that has seen a rapid rise (in part because of better diagnoses), the conference may serve as a wake-up call that over 50,000 people in North Carolina and their families are now personally impacted by autism.
According to the Carolina Institute for Developmental Disabilities, the rate of autism in North Carolina is 1 in 97, above the national rate of one in 110. Yet North Carolina lags behind 29 other states in the U.S. that have already passed autism insurance reform laws.
It is time for the North Carolina legislature to follow the lead of neighboring states like South Carolina and Virginia, and pass the autism insurance reform bills which are languishing in committees (House Bill 826 and Senate Bill 115).
An estimated 1.5 million Americans have an autism spectrum disorder, but most Americans have no understanding of what it is. Autism is a lifelong developmental disability that affects brain function, emotional development, and social interaction. It affects every facet of daily living, including the ability to communicate, succeed in school, hold a job, maintain friendships, and live independently.
While autism is not curable, it is treatable, especially with early diagnosis and treatment. The American Academy of Pediatrics stresses that intervention in children as young as 18 months old can dramatically improve lifetime prognosis.
Individuals with autism in North Carolina currently face discrimination by health insurance policies that specifically exclude treatment for autism and developmental disabilities. Because state law does not mandate coverage, most companies deny coverage.
To the families of the more than 50,000 individuals with autism in North Carolina, this is an outrageous exception to medically necessary health coverage. Would we accept it if other chronic medical conditions like diabetes, cancer, or heart conditions were excluded from treatment?
With appropriate intervention, many children with autism can grow to be independent adults who contribute to society and have a meaningful quality of life. Without intervention, individuals are far more likely to require lifetime support from their families, the school system, and the government.
Later life can be filled with employment and social difficulties for adults as they age. According to the Bureau of Labor Statistics, in 2010 only 28.6 percent of individuals aged 16 to 64 with a disability were in the labor force. The lost productivity and earning potential costs everyone.
The cost of therapy for autism is more than a typical family or individual can afford, up to $50,000 per year. Parents have a reasonable right to expect that their health insurance premiums will cover necessary services for their children, something which the Coverage For Treatment of Autism Disorders bill would address.
Insurance lobbyists have tried to use scare tactics to convince state legislatures that the cost of adding autism coverage to existing health plans would increase premiums by 1 to 3 percent for all subscribers. However, studies have proved that to be false. In states that have tracked the costs of claims following the enactment of autism insurance laws, the average premium increase is only 31 cents per month. For less than the cost of an apple a month, North Carolina's children with autism can be helped. Even that cost will be overwhelmingly paid back to society by productivity.
The current versions of the Coverage For Treatment of Autism Disorders bills were introduced to the North Carolina General Assembly in 2010 by a coalition of autism advocates, state legislators, and organizations. Legislators across the state need to know the importance of the Coverage For Treatment of Autism Disorders bill, and vote to end discrimination against people with autism.
Bridget Mora is a chapter Board Member of the Autism Society of North Carolina, and the mother of a four-year old son with Asperger's Disorder. She is also the author of http://www.chartnc.blogspot.com/,a blog dedicated to sharing information and resources for autism in the Triangle region. Robert Weiner is a former chief of staff of the U.S. House Health Subcommittee and House Aging Committee. For more information, contact the Autism Society of North Carolina at 919-743-0204.

Read more here: http://www.charlotteobserver.com/2012/03/28/3131573/nc-lagging-on-insurance-for-autism.html#storylink=cpy